A 403(b) plan, is also known as a tax-sheltered annuity (TSA) plan
Employees accounts in a 403(b) plan can be any of the following types *.

An annuity contract, which is a contract provided through an insurance company,
A custodial account, which is an account invested in mutual funds, or
Generally, 403 (b) plan retirement income accounts can invest in either annuities or mutual funds.

Based on WWW.IRS.GOV
403(b) Plans – Custodial Accounts Transamerica " Plan Administrators
Self Directed Accounts are set up. This is done as Charles Schwab PCRA (Personal Choice Retirement Account) in the name of the Individual.
Contributions come into the Individuals Transamerica account and then transferred to the Individuals PCRA.
Benefit of managing the retirement through the PCRA option is the availability of over 2000 NO-LOAD funds. Over half of them are no-transaction fee funds.
SELF-DIRECTED RETIREMENT ACCOUNTS TRANSAMERICA 403 (B) PLAN PARTICIPANTS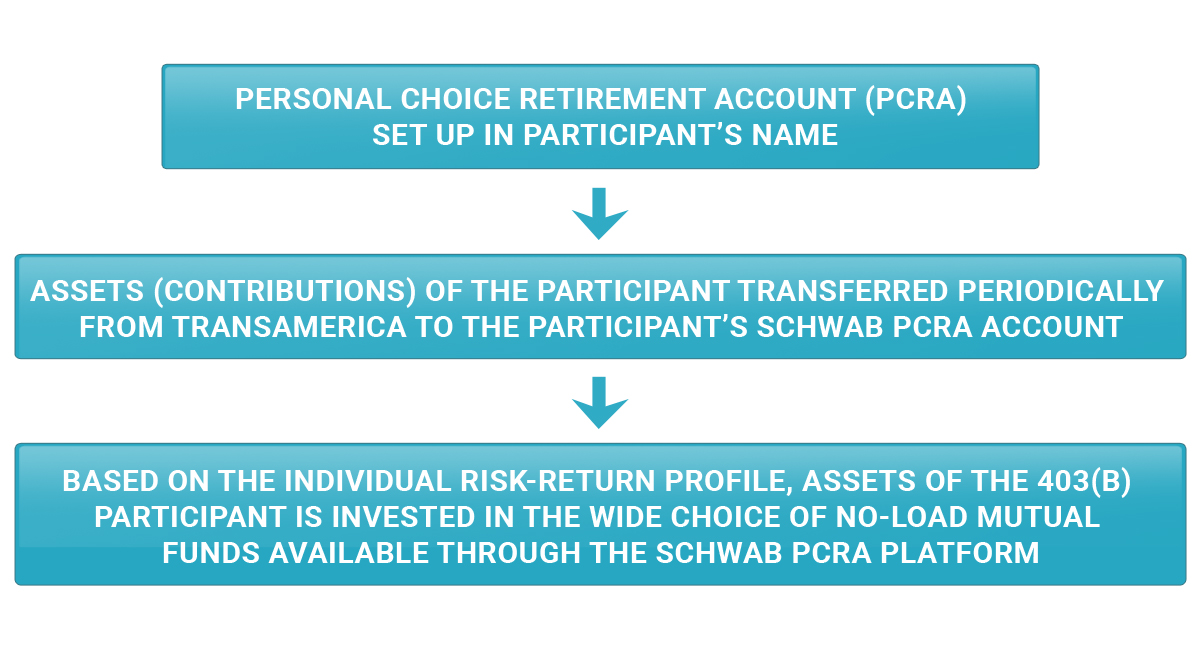 CONTRIBUTIONS COMING IN EVERY MONTH IS ONLY INVESTED IN VANGUARD 500 FUND
INVESTMENT INTO THE TFLIC (5%-CHARGE ANNUTITY) IS PREVENTED.
THIS IS DONE THROUGH EXPRESS INSTRUCTIONS TO TRANSAMERICA
GoodWins Role as the Portfolio Manager
The Client gives GoodWin Limited Power of Attorney to make transactions on the Clients portfolio in the Clients PCRA.
GoodWin starts off by building an Investment Policy Statement for the Client.
The Asset Allocation is made based on the Clients personal risk and return profile and the Clients portfolio of mutual funds is built.
GoodWins Criteria for Picking the Mutual Funds
Only NO-LOAD funds are chosen
Transaction Fee Mutual Funds are chosen only if they benefit the Clients long-term investment needs or if the Funds have low expenses.
Mutual funds are chosen based on their Funds individual Portfolio Holdings.
No two funds are chosen in the Clients portfolio with similar holdings which would increase the Clients overall risk profile.